---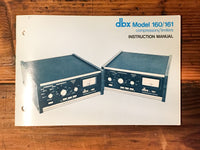 This is a an Original, Physical Document.
-Professional offset printing means ultra-sharp and easily readable text and graphics.

-Original manuals often contain large fold-out schematics.
-An original service manual usually pays for itself within the first few hours of working on your equipment!
Condition:
This is an Original Physical Document, not a photocopy, reprint or PDF.

Since this is an original document, some items do display wear and tear. Occassionally a tech's notes are written inside the manual. They are often helpful hints and tips or prices / etc.
Searching for a different manual? 

We have a collection of more than 15,000 original owners manuals, service manuals, and original dealer literature. Use the search feature to search for your make and model.
- We offer USPS Media Mail and USPS 1st Class mail for our US customers.

- We ship via Asendia USA by Swiss Post for all International orders.

- All shipments (international & domestic ) are fully tracked.

- Orders are shipped within 2 business days.

- Delivery Estimates are available at checkout

- Local pickup in Portland, OR